Moodle activities, including Forums, Glossaries and Databases, can be graded or rated and so contribute to the overall assessment of a course participant.
Most question types in Quizzes and Lessons are automatically graded for you according to the points value that you assign to the questions when you first compose the activity. The only question type that requires you to apply manual grading methods is the Essay type because it requires the course participant to enter free text; sadly, Moodle is (not yet) clever enough to interpret free text and judge what grade to apply.
The Gradebook aggregates all the grades from the various activities that are embedded in the course, giving a full and comprehensive overview of a student's achievement throughout the course. The overview can be exported to a number of different applications, including Open Office and MS Excel.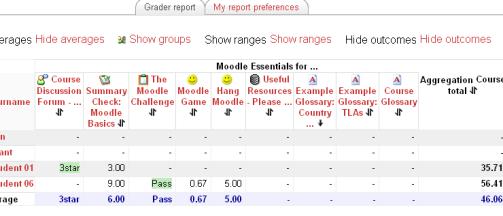 Marking scales are also fully flexible. Moodle comes with two default scales: percentages and connected/separate knowing. If these scales do not work for you, set up your own custom ones. Take the Gradebook lesson to find out more about the process of setting up and applying your own custom scales.
Got questions about the Gradebook? Want to know how other Moodlers use it? Looking for ideas? Got a suggestion on how to improve it? Get involved in the user forums at
http://moodle.org
!
Last modified: Tuesday, June 21, 2011, 6:48 PM